The days of dull cubicles and uninspiring office environments are over. Today, professionals are looking for a modern workplace that combines productivity, comfort, and convenience. Desk chair, Loveland's top coworking space, understands the need for a great workspace and provides a range of options to enhance your experience.
Private Rooftop Lounge with Rocky Mountain Views Imagine taking a break from your work and stepping out onto a private rooftop lounge with stunning views of the Rocky Mountains. At desk chair, you don't have to imagine it; it's a reality. Our private rooftop lounge is the perfect area for a peaceful and relaxing atmosphere. Whether you need a quick break or need a spot for networking with like-minded professionals in a beautiful setting, our rooftop lounge is sure to impress.
Onsite Gym We recognize that a healthy body leads to a healthy mind. Our easily accessible gym can help you maintain stress levels throughout the day. Stay active and energized throughout your workday by utilizing our fitness facilities. Whether it's a quick cardio session, weightlifting, or stretching to clear your mind, our fully-equipped gym is ready for you to use.
Concierge Level Support At Desk Chair, we understand that your time is valuable. That's why we offer concierge level support to assist you with any requests, from booking meeting rooms to coordinating events. Our friendly and efficient team is dedicated to ensuring your workspace experience is seamless, so you can focus on what matters most – your work.
Month-to-Month Agreements Flexible office space is crucial in today's dynamic business landscape. Desk chair offers month-to-month agreements, allowing you to adapt to your workspace needs without being tied down by long-term leases. Whether you're a startup looking for room to grow or a seasoned professional who appreciates flexibility, Desk Chair has you covered.
Fiber Internet 1 Gig Up/1 Gig Down In the digital age, a fast and reliable internet connection is non-negotiable. Desk chair provides lightning-speed fiber internet, with a symmetrical 1 gig up/1 gig down connection, ensuring you can work without interruption, seamlessly participate in video conferences, and upload or download large files with ease.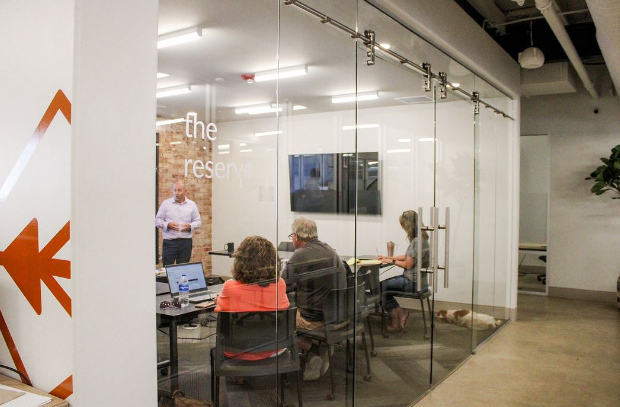 Copy and Mail Services Streamline your workday by taking advantage of our convenient copy and mail services. From scanning and printing to sending and receiving packages, we've got your administrative needs covered. You can focus on your core tasks, knowing that these essential services are just a request away.
Conference Rooms Available Collaboration is at the heart of innovation, and Desk Chair provides four fully-equipped conference rooms to facilitate your team strategy meetings, client presentations, and collaborative brainstorming sessions. Whether it's a one-on-one discussion or a larger team gathering, our flexible spaces are designed to meet your needs.
Indoor and Outdoor Spaces. Nature has an undeniable impact on productivity and well-being. Desk Chair offers both indoor and outdoor seating options, allowing you to choose your ideal setting to be productive. You can enjoy the natural beauty of the rooftop lounge or find a quiet dedicated desk inside, all within the same building.
Beer and Wine on Tap Sometimes, a long day of work deserves a reward. We provide beer and wine on tap, giving you the perfect way to unwind after a successful day or to foster networking opportunities with fellow professionals. It's all about balancing work and relaxation.
Desk Chair recognizes the importance of creating an atmosphere of inspiration for today's professionals. We've carefully curated our amenities to cater to your needs, helping you be the best version of yourself each day you come in. By offering a combination of functional features and luxury touches, we aim to create an environment that not only enhances your productivity but also elevates your overall well-being.
If you're looking to elevate your workspace experience and be a part of a community that values your professional growth and well-being, desk chair is the place for you. Come experience a new way of working, where productivity meets comfort, and every detail is designed to enhance your professional life. Reach out to our team today to schedule a showing!